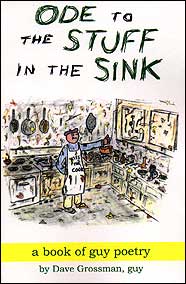 "Ode to the Stuff in the Sink" is a book full of amusing light verse and cartoons about things like beer, burning toast, shaving, and not doing the laundry. We have dubbed it "a book of guy poetry" because such things are often associated with the stereotypical male, but we feel that the appeal is actually more universal. Not only would YOU probably like it, but it would also make a great gift for either
a guy, or
someone who knows a guy.
At $9, it costs less than going to a movie (even alone and without popcorn). This is more fun and you get to keep it.
Some samples of the contents appear farther down this page.
---
Here are some things you can do now: